September 27th, 2012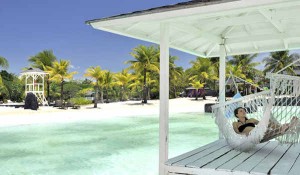 Spoil yourself in one of the best resorts in Cebu. Situated in 11.4 hectares of secluded grounds and yet only 30 minutes from Cebu City, the Plantation Bay Resort and Spa is your best choice for escape and relaxation. Perfect for family or couples, this tropical colonial setting offers tranquility away from the hustle and bustle of the city. You will feel like you are in your own private estate. The property features lush tropical gardens and waterfalls surrounding the salt-water lagoon.
The resort was opened in late 1996 and has been updated since then. It has complete amenities that any traveler needs. The rooms are spacious at 46 square meters and furnished with plantation-style furnishings and equipped with modern facilities, all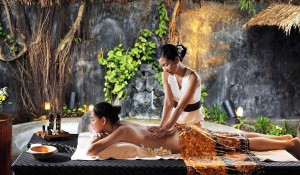 with breathtaking views. The bathrooms have separate showers and soaking tubs. The fresh-water pool, the salt-water lagoon and the tennis courts are both a walk path away to be enjoyed at any time. A lot of water sports activities are available for the whole family within the resort. Some of the activities for every guest's access are the island adventure tours, sunset cruises, scuba diving, snorkeling, parasailing and kayaking. Guests can borrow the bicycles and go around the property or get on a "kalesa" (Filipino horse carriage) ride. There is also a target shooting, archery, wall-climbing and fitness center. A strict no tipping policy is enforced. This way, guests will not have influence on how one is treated than the other. The staff is very friendly, always wearing a smile and ready to help.
Plantation Bay Resort and Spa has 4 restaurants and all with unrivaled quality of food and service. All four of the bar and restaurants are designed differently and when you transfer from one to the other makes the guests feel they are bar hopping but within the resort. The food is amazing but the service is superb.
One of the best things that Plantation Bay Resort and Spa offers is their full-service spa which is the Mogambo Springs. The setting of the spa resembles an 18th Century Tokugawa Japanese Village that has its own thundering falls, creek and fog-like mist. You can float away your cares while getting the pores of your skin open up in a soothing hot spring or rejuvenate your body with a mineral bath. Enjoy the vigorous hydro-massage in the main waterfall basin. Then move on to the dry-heat sauna to sweat out the toxins. The Mogambo Springs is built with the same elegance theme as the whole resort with the full attention to detail. There are also facial and body treatments. They offer a variety of massages like the Thai massage and Hilot (traditional Filipino) massage. They also have the ultimate Mogambo Springs experience that is a packaged complete spa pampering treatment, like the pool massage, body scrub, foot therapy, facial treatment of your choice, aromatherapy with oil massage, nail care and paraffin treatment in their private room.
Plantation Bay Resort and Spa is a quiet and relaxing experience like being transported into a different place, a stark contrast with the city of Cebu. Come and book now or locate the resort in the Quick Hotel Finder button.
Tags: Cebu, Cebu Activities, Cebu Landmarks, Cebu Tourist Spots, Plantation Bay, Spa Resort, Things to do in Cebu
Posted in Cebu | No Comments »
September 14th, 2012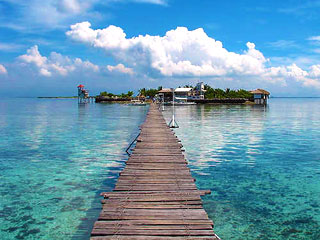 A little advance planning definitely helps you make the most of your time and money in Cebu, Philippines. Research about the places you want to see and activities you want to do. Do read reviews, but do not dwell in them too much as your expectations might be set too high. Our website has a lot of good suggestions and is well worth it to check out. Do not overdo your itinerary and just leave yourself just rummaging through a crowded traffic of tourists or your basic inability to relax leaving you only with 5 hours of sleep each night. Make a back-up itinerary in case the one you have is not working out for you. Most importantly, learn how to say no to extra load from work while you are away. It is your vacation and you must enjoy it without having to be stressed out for the same reason you are on holidays to un-stress yourself.
It is also best to spend more time exploring fewer destinations, thereby creating a more intimate travel experience. The good thing is that despite all of its variety, Cebu is not so big a place and it's relatively easy to explore within a day or less. You can easily enjoy all of Cebu's main fields of interest: beach, jungle or land activities and hopping to other islands in a week.
Hire a guide. The idea that hiring a guide is for amateur tourists is really a misconception. Hiring a guide could be the best move you make. Especially it's a good idea if you are going to be in a place for a short period of time. Be always polite, an aggravation due to an ugly exchange brought about by a little misunderstanding will totally fall under how to ruin your vacation.
Only over the Christmas-New Year's, Chinese New Year's and Easter holiday periods might you face any difficulties in finding a room, but it still pays to book ahead for any particular places you're keen to stay in, and make inquiries about the necessity of booking for any activities, such as diving and dive courses. Cebu is budget travelers' paradise and there are accommodations for every range.
The best months to visit Cebu are the drier ones: November through June, the Amihan season. The rainy season, which is the Habagat Season (July to October) isn't so wet that you can't do anything fun. However, there would be sporadic days in a week in the Habagat Season that it just rains heavily. The biggest tourist influx is in the couple of weeks each side of Christmas and Easter.
Many accommodations, especially the more expensive ones have high and low-season prices. Please check the season specified on each Cebu hotel's Rooms and Prices page when you book. There is also an 'extra' season referred to as Super Peak which is covering the Christmas, New Year's, Chinese New Year's and Easter periods, when prices go above normal high-season rates. If you're using top-end or some mid-range accommodations, you'll certainly save money by avoiding these seasons. See our hotel quick finder to see more about range in accommodations.
Though a poor country, Philippines is at least as expensive as any other South East Asian countries. High taxes, many imports and the fact that much of its tourism industry is geared to Europeans on fairly short vacations help keep the prices a bit high. For US $70 to US $150 will buy you a solidly comfortable midrange double all throughout the island. For anything above the ordinary you're often looking at a minimum of US $200, and the top end of the market goes above US $350.
A good two- or three-course meal with a couple of drinks in a pleasant restaurant will average US $75 to US $150 (more if you eat lobster!). Furthermore, there are a lot of local cuisines that are worth the adventure at a considerable price. Budget travelers can make their money last longer by hanging out in local places. Travelling by jeepney is cheap, but car hire, taxis, boats and hotel transfers are not. Tours and excursions mostly run from $70 to $150 per person for a day (more for diving trips).
Overall, a comfortable midrange budget per person is US $350 to US $450 per day.  Staying in some of the better accommodations, enjoying plenty of tours and activities, and traveling by rented car or hotel can easily add up to US $600 a day could be more. Budget travelers might get away with US $75 a day if they're particularly frugal, but you need to spend more like US $150 to US $250 to enjoy yourself. The simplest way to cut costs is to share rooms, transport and tours with other people.
Philippine currency is the Peso (Php), which was hovered at or around a rate of Php 43 = US $1 for several years, prices in our website is converted with the current exchange each day. The accommodation prices on our website do not have any other additional rates, what you see is what you get. However, you might find in restaurants will have additional service charges, so do watch out for signs or ask accordingly.
Tags: Cebu, Cebu Activities, Cebu Seasons, Cebu. Cebu Hotels, Things to do in Cebu
Posted in Cebu | No Comments »
September 10th, 2012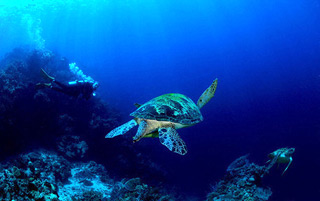 Badian Island is located at the south-western tip of Cebu mainland, slightly south of Moalboal. Home to some 35,000 residents and has 29 Barangays (town or districts). It boasts breathtaking white sandy beaches. Beside the fantastic Kawasan Falls in Matutinao area, the island is also home to excellent diving and snorkeling areas that are famous in Cebu, Philippines. It is frequented by many locals and international visitors alike. Badian Island has a luxury hotel in the area and available to provide Scuba lessons with certified PADI instructors for interested guests. They have first class dive equipment. Badian Island Resort and Spa offers comfortable accommodation and a relaxing spa well designed for guests who want to escape the hustle and bustle of the city. It would be a perfect combination to conclude your diving adventure with some world-class in-house massage.
Directly on the island there are 5 dive sites. Visibility of all the dive spots is relatively 15 to 25 meters. Coral Gardens is one, and it is a primary snorkeling area. There is a small sandy basin on the shelf at 3 meters and basically used more for Open Water Training Dives. Another one is Garden Eels, you go down a drop of 30 meters and you will encounter a large sandy spot that is covered with garden eels poking their heads out of the sand. It is recommended to go down current and as still as possible so as not to disturb the eels otherwise they will go and hide back in their holes.
Another two areas are the Badian Wall and the Fisherman's Cave, they are both about 10 to 15 minutes by boat toward north and northwest side of the island. The current is a bit strong in these two areas and thus, more fish activity. They both have a shelf that begins at 3 to 4 meters then drops off to 30 to 40 meters. You can see many fan and large green corals. A school of Yellowtail Barracudas can be often seen around this area as well. Some turtles are seen around here, too. Both of these dive spots are perfect for night diving.
Lastly is the Sawang dive spot, about 5 minutes by boat. It is a shallow dive and often used as an Open Water Training Dive site for large groups of beginners. It starts at 3 meters with sandy spots for skills and patches of corals. From there, it gradually slopes. This is prefect for safe training dives. Also this dive spot is sometimes being used for Advanced Open Water Navigation Dive. Moalboal and Pescador Island are both nearby Badian. Refer to our Diving Areas page to know more about these two dive spots.
There are other activities that can be arranged with the hotel like d­­olphin watching, hiking and a half-day trip to Kawasan Falls. Book with us and pick Badian Island Resort and Spa for your next diving trip.
Tags: Badian Island, Cebu, Cebu Activities, Cebu Tourist Spots, Diving Spots
Posted in Cebu | No Comments »
August 24th, 2012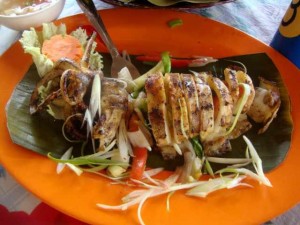 Welcome to Cebu, Philippines! Being this country is surrounded by bodies of water the endless supply of seafood is expected. The relationship of Cebuanos with food is like life itself. It is like feeding your soul with all the goodness of delicious seafood. Su-Tu-Kil is a nickname derivation from three methods of cooking in Cebu. In Visayan dialect, Su came from the word "sugba" which means to grill on charcoal, Tu came from the word "tula" which means to stew the food and season with spices and usually with "sampaloc" (tamarind) or lemon grass, and Kil came from the word "kilawin" which means to prepare it raw like in sushi, but immersed in white vinegar and mixed with ginger and aromatics while the fresh seafood is cooked slowly in the acid of the vinegar.
There are plenty of restaurants that cook Su-Tu-Kil. They are usually near the Mactan Shrine. It is a mere walking distance from the shrine. You can choose from a variety of these restaurants who can cook your seafood fresh in under an hour. This dining experience is definitely a must-try for first timers in Cebu. The restaurants are lined up in one place with all the fresh catch of the day laid out for customers to choose from.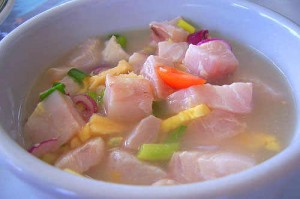 Prawns, crabs, lobsters, squids, different kinds of tropical fish and other large variety of sea creatures are the choices that can be prepared and cooked fresh.  Some of the famous restaurants who are the forerunners of this kind of dining are Fredz SuTuKil and Manna SuTuKil. The prices of the food are usually determined by the weight of the seafood of your choice, but still depending on the market price of the day, then they just add cooking fee. Say for example a half-kilo of squid is Php 140 and a half-kilo of prawns is Php 340, and for those prices the restaurant's fees are already added. Those are just examples, but you get the picture.
One can either choose to get it grilled, stewed or prepared fresh and cooked in vinegar as explained earlier. The famous stew is usually the "Sinigang" which is the Tamarind Soup mixed with vegetables. These restaurants can also cook other methods. Examples of which are fried calamares, baked scallops and sautéed chili crabs, and these methods of cooking can be done as per request. It depends on how you want to enjoy this experience, and may also get to choose where to sit, either inside an air conditioned floor or an open air dining, usually on the roof top.
Most of the restaurants have been in business cooking fresh seafood for 15-20 years already. They can definitely grill any type of seafood to perfect tenderness. If you are looking for authentic Cebuano food, you have to try Su-Tu-Kil. It's a Filipino type of cuisine that one should never miss during their trip to Cebu, Philippines. Bon appetit!
Tags: Cebu, Cebu Activities, Cebu Landmarks, Cebu Tourist Spots, Things to do in Cebu
Posted in Cebu |

Comments Off
August 16th, 2012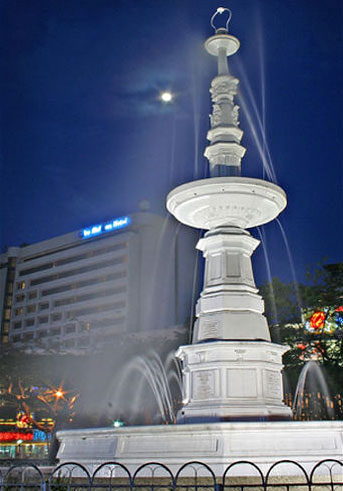 Mabuhay! Welcome to Cebu City, Philippines! Besides being a popular destination in the country, Cebu is also known as the Queen City of the South Philippines which is located in the Central Visayas, in Region 7.  Cebu City is the second largest city in the country. Home to centuries old churches and historical markers like the Magellans' Cross that dated back in the 15th century, best diving sites in Asia like the one in Malapascua Island where a lot of Thresher Sharks can be seen, an array of mountains, caves, forests and beautiful beaches like in Badian Island, and concurrently, it is a highly urbanized city with malls, business centers and international hotels that are all within an hour's travel to each other.
The weather is generally hot and humid and temperature stays at 25-32 degrees Celsius (78-90 degrees Fahrenheit) all year round. The temperature goes up to 28-38 degrees Celsius during the summer that starts from April and ends in June. Amihan Season (High Season) where the wind, usually hot and humid goes northeasterly to easterly with little to no rainfall starts from September to May. Habagat Season (Low Season) where the cool wind goes south-westerly with moderate to heavy rainfall starts from May to September. Amihan or Habagat can start a month later sometimes, so it would be October to June for Amihan and vice versa for Habagat.
Cebu Island has an international airport located in Mactan Island, Lapu-Lapu City which is 20 minutes from Cebu City proper. It is less congested than Ninoy Aquino International Aiport in Manila. Numerous direct flights to and from Korea, Singapore, Hong Kong and scheduled flights to Japan, Qatar,     Malaysia, Taiwan and China can be booked. Additionally, seasonal chartered flights can be booked to and from countries such as, Russia, China, United States and other nations. Visitors from North America, Europe and the Middle East would need a lay-over on the South East Asian countries listed above to get to Mactan International Airport. The terminal fee for international entry is PhP 700 per passenger and PhP 200 per passenger for domestic.
There are different modes of transportation you can use around the city, but most tourists opt for taxi cabs. Make sure that you ask for a metered rate especially if you do not know your way around the city. If you are confident to have a little adventure, try the colorful jeepneys. There is no tourist information center at every corner so it is advisable to ask your hotel's front desk on which jeepney routes to take to your destination before embarking outside rather than asking random strangers, although, sometimes it helps to ask. Most Cebuanos can speak and understand English, so that would be a common language that can guarantee to get your message across.
Make sure that you always have smaller denominations of the Philippine peso (PhP), as cabbies always most of the time say they don't have a change for PhP 500 bill, and unfortunately can force you to just let them to keep the change. The Philippine Peso come in 1 PhP coin, 5 PhP coin, 10 PhP coin, 20 PhP bill, 50 PhP bill, 100 hP bill, 200 PhP bill, 500 PhP bill and the biggest, 1,000 PhP bill. There are tons of ATM machines around the city, but safest to use local banks such as BPI, Metrobank, RCBC, BDO and some foreign banks like HSBC and Citibank. These banks are also the safest and cheaper than in the airport for money change. However, it is important to get your money changed to PhP before getting out of the airport for your transportation fares. If you are a frequent traveler, you would know that additional fees apply for overseas bank transactions and sometimes your bank from your country might need to be pre-alerted that you are travelling to the Philippines so they can release money to you when you use the ATM machines here. Western Unions are available in many locations in Cebu City for money transfer transactions, too. Please don't forget to bring your passport I.D., as they will not accept other forms of identification except your passport if you are a foreigner.
For shopping, there is SM City Cebu, a four-level shopping haven with a movie theater and over 200 shops and restaurants. And also Ayala Center mall that is a large department store, with two Supermarkets, Movie Theater and a lot more international restaurants. The cab fare from the airport to these malls should only run about PhP 150-200. The city offers so many popular tourist spots around and just about an hour travel away. For example, Taoist Temple and Tops are some places to go visit.
To visit the neighboring islands that have all the beautiful beaches like Bantayan Island, or other nature sight-seeing activities like in Olango Island Wildlife Sanctuary and all other exciting places for adventures, you can rent a car or take a cab to the nearest port to where a boat will bring you to which island. Renting a car usually means that you will have a driver to bring you to your destination and back if you prefer, although, the usual rent-a-car concept where you will drive the car yourself is also available.
While in Cebu, it is not customary to include a tip, but it would be nice if you can leave at least 10% tip for good service. However, some restaurants already include service charge on your bill so make sure to read your bill carefully before leaving money behind. As a matter of fact, if there is no clear signage in visible areas or a note on the menu that a service charge is included it would not be rude to ask if that is automatically charged to your bill prior to ordering rather than be forced to pay a service charge if you don't want to.
The Philippines is a third-world country, but is a very forward country in terms of communication and data and not so lagging behind with the bigger industrialized nations of the developed world. In fact, as far as cellphone use is concerned, this country is definitely in the industry's front. The Philippines is the texting capital of the world. Texting has boomed here long before it was popular in the US and numerous mobile phone applications are invented here. Grab any SIM card from any of the local 3G or 4G networks like SMART, GLOBE or SUN and just get electronic loads for usage credit. Local phone calls are PhP 7 – PhP 10 per minute and SMS texts are PhP 1- PhP 2 each. There are numerous load stands or you can buy phone cards for load that come in PhP 100 or PhP 300 usually, this is best and cheaper way to connect between families visiting together instead of accumulating expensive international roaming charges. You can ask your hotel desks as they may have electronic loads available for purchasing.
Please note that the metric system is used in most trade and legal transactions and standard electricity is 220 Volts A/C, although 110 Volts A/C is also used especially in major hotels. Also, most large stores, restaurants, hotels and resorts accept major credit cards including American Express, Visas and MasterCard. Traveler's checks preferably American Express is accepted at hotels and large department stores. Personal checks drawn on foreign banks are generally not accepted.
As with any trip, you should take standard safety precautions. Don't leave your belongings unattended, avoid flashing wads of cash, and don't wear or carry jewelry. If you can get a safety deposit box in your hotel, it is advisable to leave your precious personal effects and important documents behind. Cebu is a safe place, but it would not hurt to be aware at all times.
I hope you enjoy your stay and take as many pictures you like to post on your Facebook page. Visit our General Information page for more detailed information and feel free to look at the other blogs about tourist destinations here in Cebu.
Tags: Cebu, Cebu Activities, Cebu Landmarks, Cebu Tourist Spots
Posted in Cebu | No Comments »
July 31st, 2012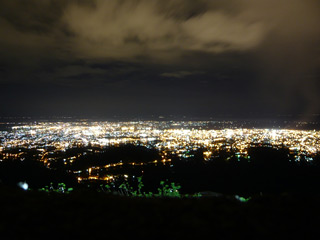 "Tops" is a hectare area of concrete viewing deck 2,000 meters above sea level. It sits on a mountain in Busay about half an hour away from central district of Cebu City, Philippines. You can reach this place via a rental car or a taxi cab, but the price is pretty steep with this mode of transportation. There is ample parking for vehicles, so no need to worry where to leave your rental vehicle. If you can navigate yourself around Cebu City and get there at the foot of the mountain, you can take a motorcycle. Motorcycle drivers are already standing by to bring people up the hill and back. The motorcycle ride is captivating as you feel like you are soaring above the city because you can already catch glimpses of the panoramic view on your bumpy way up. Some say Tops is an hour hike from the base of the mountain. Hiking may not be advisable if you are under time constraint and just simply take the motorcycles standing by to take you up there. Please do note that there is an entrance fee per person and no discount considered for children.
The area is mostly concrete with interesting circle stone architecture. It has a bar for beers and snacks. It also has a souvenir shop. The price is doubled and if you are on a budget, you can bring your own snacks and drinks instead. There are areas for dining and picnic. The setting is serene and romantic in the evening perfect for couples. Also definitely a good family place for picnic or little gathering. "Tops" offers a panoramic view of the whole city of Cebu City and Mactan Island with the cool fresh air welcoming you. It promises a lot of perfect photo opportunities once you are there. Some people say it is best to go during Sunrise or either Sunset as the view is fantastic. The view is magnificent during the night time where you see the city lit up in thousands of little bright lights like jewelries embracing the black velvet night. Some families even stay overnight and camp to see the stars at night, too. It could get really chilly up there and you should have light sweater or hoodie handy.
The Tops experience is definitely not to be missed. It is a worthwhile alternative between your beach-days while in Cebu City, Philippines. Plan your day ahead, maybe come for Sunset and stay overnight to catch the Sunrise, too. For however you will plan your visit at Tops, it will surely be unforgettable. Don't forget to bring your camera.
Tags: Cebu, Cebu Landmarks, Cebu Tourist Spots
Posted in Cebu |

Comments Off
April 3rd, 2012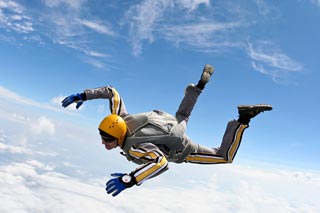 No other sport is included in the must-do lists of people more than Skydiving. Other than the adrenalin rush one gets from jumping off a plane at 10,000 feet, is the dream of flying without wings is closer to reality than ever before. Check out these fantastic ways in which human beings can fall through the air, glide through the sky and even feel completely weightless. There are not so many places in the Philippines that have Skydiving adventures. Cebu, Philippines same as Pampanga, another city of the Philippines, offers this kind extreme sport. If you are an experienced skydiver, side trip a jump right here in Cebu, Philippines. Or if you are a beginner, then must undertake a whole day of ground instructions for training. This will be conducted in Mactan Airport, Cebu. On the second day, the group will have their static line skydive jump with Cebu as the drop zone. Everyone participating to skydive will be guided by ground-to-air radio every step of the way, starting from the airplane all the way to a gentle tiptoe landing. Beginners have two options: Tandem freefall or a static-line program.
In tandem freefall, you get to experience the dive with a licensed instructor who is harnessed to you. You will be instructed for a few minutes before the actual jump that would take place immediately after. Most beginner skydivers choose tandem skydiving because of its minimal amount of instruction, and the knowledge that you are harnessed to a licensed skydiving instructor definitely makes things easier, especially if it is your first dive. This is touted to be a great introduction to the sport. Training generally lasts just 30 minutes and depending on the variables, a student may spend only half a day for the training and jump. Nearing the jump, both student and instructor are attached together to the same parachute system. On signal, both student and instructor free fall together for about 30 to 50 seconds, depending on the jump altitude (typically 10,000 to 13,000 feet). They descend together under a single large parachute with dual controls.
In the static-line program, the student is assisted during the climb out by the static-line instructor, exits the aircraft solo with the parachute deploying immediately. Exit and opening altitude occur at 3,500 feet, then the student pilots the parachute to the landing area. Pre-flight programs include practical instruction on climb-out and exit, freefall, canopy flight, landing, and emergency procedures. The static-line program is meant to be an initial course for those wanting to become licensed sky divers.
Book with us now on your visit to Cebu and expect a Philippine skydiving adventure to be a truly unique experience.
Tags: Cebu, Cebu Activities, Sky Diving, Things to do in Cebu
Posted in Cebu |

Comments Off
March 21st, 2012
If you are around the area and have a few hours to spare during your visit in Cebu City, Philippines, then why not use it leisurely shopping and roaming in the city's elegant, world class mall and food strip at The Terraces in Ayala Center Malls, Cebu City. The Terraces, unveiled on October 30, 2008 is a redevelopment that transformed what used to be a simple lagoon area to a food and beverage strip with the signature Ayala-landscaping and orchestrated water features. It is within The Ayala Center Malls, a 9-hectare area shopping haven located at Cebu Business Park in Cebu City. The Terraces has a really cool ambiance that everyone will surely enjoy. It has a well-landscaped garden and oceanic fountains that are very soothing to the eyes. The greeneries are very relaxing, a perfect place to unwind after a hectic day. There are 4 comfortable theaters within the area. The Terraces is developed into a friendly and somewhat like a freedom park for all kinds of people. Anyone is free to go there and just unwind, or rest from all the uneasiness of the world and even just to meet new people.
The Terraces offers a wide choice of restaurants and coffee shops. The best thing is that they are all next to each other. The Terraces in Ayala Center is a foodie's heaven in the heart of Cebu City, Philippines. Some places that are notably good according to reviews are Siam Thai Cuisine, Golden Cowry/Hukad, Casa Verde, The Gustavian, Moon Café, Café Laguna, Canvas Bistro and for desserts, Gelatissimo, Bo's Coffee and many more. You can also find the usual franchise like Don Henricos, Shakey's, Teriyaki Boy, and TGI Friday's and etc. For gourmet coffee shops there is The Coffee Bean, Tea Leaf, Starbucks, Figaro and Seattle's Best. Enjoy a high end, classy and trendy dining at The Terraces in Ayala Center Malls Cebu City, Philippines.
Tags: Ayala Center, Cebu, Cebu Activities, Cebu Landmarks, Shopping and Dining
Posted in Cebu |

Comments Off
March 13th, 2012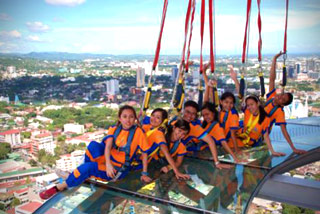 If you are visiting this beautiful city of Cebu, you must try this adventure at the top of Crown Regency Hotel and Towers. It is a fairly new hotel with tons of amenities, first class comfort and top notch service. Crown Regency Hotel and Towers is deemed the tallest building of Cebu City and one cannot miss this building at all. It is also located in the heart of commerce district of Cebu City. Beside the 4D Theater there are other two exciting adventures atop the hotel, that is the Skywalk Extreme on the 37th floor and Edge Coaster on 38th floor.
The Skywalk Extreme as the name depicts, is a walk on a glass based floor on the edge of the exterior of the 37th floor of the building. It is like walking on the sky but with a harness attached to a cord. The view of the whole of Cebu City and neighboring island of Bohol are amazing from this level. A pair of athletic shoes is required. There are rental of shoes just in case. Guests who will go on for this adventure will need to change into the required flight suits. Lockers are provided for the personal belongings. Cameras are not allowed, but there are photographers who will take pictures for a fee. Make sure you tell the photographers to take as many pictures with different poses. One more thing, walk on the edge and look down below or sit on the edge, this might be a once in a lifetime breathtaking experience, so might as well make the most out of it.
The Edge Coaster is a gliding coaster ride on a rail situated around the edge of the exterior of the 38th floor. The coaster that is facing outward the building tilts to 30 to 55 degrees to its front. It has the same spectacular view of Cebu City and Bohol Island like the Skywalk Extreme. This adventure is exciting and scary for some, but not as scary if it would have been a real roller coaster. However, the ride gives you that feeling when you are about to fall off a building. That alone is a scary thought; imagine actually being there experiencing that moment for 5 minutes. It is a must-try!
There is no other place in the Philippines that offers these kinds of adventures except here in Cebu City. Book your hotel room with us now. Add Skywalk Extreme and Edge Coaster in your itinerary in your trip to Cebu City and make it a one of a kind experience for you and your family.
Tags: Cebu, Cebu Activities, Cebu Tourist Spots, Skywalk Extreme and Edge Coaster
Posted in Cebu |

Comments Off
March 5th, 2012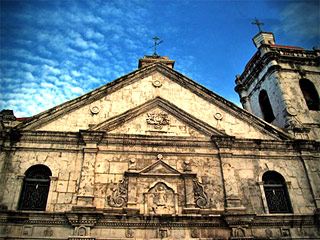 Cebu is full of history. Mostly of the Spanish heritage that Cebuanos have inherited resulting from the 300 years of Spanish settlement. As Cebu became a colony of Spain, traces upon traces of that era remained. One evident collection is the Basilica Minore del Santo Niño, a 16th century old Roman Catholic Church, known to be the oldest church in the Philippines. It was built purportedly on the spot where the image of the Santo Niño, a sculpture depicting the Holy Child Jesus done in the style of Flanders found by Spanish explorers of Legazpi Expedition of 1565. The image was allegedly preserved in a burnt wooden box which was left behind during the 1521 Magellan expedition. Since then, Santo Niño become the most popular symbol of Cebu and has acquired a huge number of devotees over the centuries.
The Augustinians regarded the finding as an omen of good things to come. Thereupon the Augustinians established their first house. It was 28th of April, 1565. On 8th of May, Legazpi and his men drew up plans for the urbanization of Cebu and a site was allotted for a church and convent dedicated to Saint Augustine. A chapel of wood and nipa was hastily built and with appropriate ceremonies the image was enthroned in the chapel. The adjacent convent served as an infirmary and rest house for other Augustinians working in the Visayas and up to the present still a residence for priests. Unfortunately, this chapel burned the following year.
In 1605 another church was built of similar material. It was finished in 1626 but burnt after two years. Fr. Juan Medina started a church of stone in 1628. But in 1729, it says that the church was in danger of collapsing and had to be replaced. Demolition of the old church began in 1731. However, the following year work was stopped because of the inferior quality of the brick used which deteriorated quickly. On 29th of February, 1735, foundations for the present church were begun. The new church was built of coral blocks quarried from Panay and Capiz, and molave wood from Talisay and Pitalo in Cebu. The church was completed not until later than 1739.
During Sinulog Festival, women selling candles can be seen swaying and dancing while holding aloft a handful of candles in front of the church. This is a sacred dance in honor of the Santo Niño, called sinulog, after the Visayan word "suug" meaning water current. A museum inside the Basilica showcases the history of Christianity in Cebu. Antique objects are on display, including century-old furniture, priestly vestments and the Santo Nino's old cloaks donated by individuals over the centuries. A visit to Basilica Minore del Santo Niño is another historical tour that you do not want to miss. Book with us now and travel back in time and turn your Cebu vacation into an illuminating experience.
Tags: Basilica del Santo Niño, Cebu, Cebu Activities, Cebu Landmarks, Cebu Tourist Spots
Posted in Cebu |

Comments Off