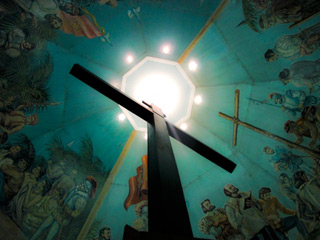 Christianity, among other things, was Spain's greatest contribution to this part of the world. Magellan's expedition is one of the most daring first expeditions in history. Magellan's Cross is a Christian cross planted by Portuguese and Spanish explorers as ordered by Ferdinand Magellan, who was the first European to come to the Philippines in 1521. The planting of the cross is to signify an important event about the propagation of the Roman Catholic faith in what is now Cebu, the island which he first called Archipelago de San Lazaro because it was discovered on the date of the festivity of Saint Lazaro. Christianity was then introduced to this native leader, Rajah Humabon and his family and to all his subordinates and were all consequently baptized thereafter. The Shrine of Magellan's Cross stood just beside the Basilica del Santo Niño.
Magellan is a Portuguese navigator working for the King of Spain in search of the Spice Islands, now part of Indonesia and also known as Maluku or Moluccas islands. He was the first man to circumnavigate the world and has successfully done and proved what no man in his time ever did and tried–to reach the East by sailing West. Sadly, Magellan met his death under the hands of another Visayan chief, Lapu-Lapu, when he went to the nearby island of Mactan. Mactan is also part of today's Metropolitan Cebu. There, both the statues of Magellan and Lapu-Lapu proudly stand to commemorate the tragic meeting of east and west. It took another 45 years (1565) before Cebu was visited again by another European. Miguel Lopez de Legazpi, under orders from King Philip of Spain, came and made Cebu the first capital of the Spanish colony known as Las Islas Filipinas.
The Shrine of Magellan's cross has become a symbol of hope and refuge for some if not all Christian travelers from all walks of life who happened to reach this place for some personal odyssey or retreat, and perhaps for some very important reasons of faith. Book with us now for Cebu accommodations and don't miss to have a tour at Magellan's Cross for a worthwhile historical visit.