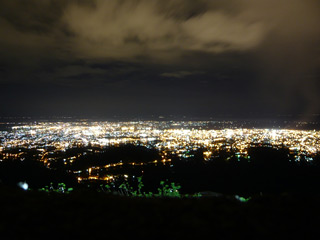 "Tops" is a hectare area of concrete viewing deck 2,000 meters above sea level. It sits on a mountain in Busay about half an hour away from central district of Cebu City, Philippines. You can reach this place via a rental car or a taxi cab, but the price is pretty steep with this mode of transportation. There is ample parking for vehicles, so no need to worry where to leave your rental vehicle. If you can navigate yourself around Cebu City and get there at the foot of the mountain, you can take a motorcycle. Motorcycle drivers are already standing by to bring people up the hill and back. The motorcycle ride is captivating as you feel like you are soaring above the city because you can already catch glimpses of the panoramic view on your bumpy way up. Some say Tops is an hour hike from the base of the mountain. Hiking may not be advisable if you are under time constraint and just simply take the motorcycles standing by to take you up there. Please do note that there is an entrance fee per person and no discount considered for children.
The area is mostly concrete with interesting circle stone architecture. It has a bar for beers and snacks. It also has a souvenir shop. The price is doubled and if you are on a budget, you can bring your own snacks and drinks instead. There are areas for dining and picnic. The setting is serene and romantic in the evening perfect for couples. Also definitely a good family place for picnic or little gathering. "Tops" offers a panoramic view of the whole city of Cebu City and Mactan Island with the cool fresh air welcoming you. It promises a lot of perfect photo opportunities once you are there. Some people say it is best to go during Sunrise or either Sunset as the view is fantastic. The view is magnificent during the night time where you see the city lit up in thousands of little bright lights like jewelries embracing the black velvet night. Some families even stay overnight and camp to see the stars at night, too. It could get really chilly up there and you should have light sweater or hoodie handy.
The Tops experience is definitely not to be missed. It is a worthwhile alternative between your beach-days while in Cebu City, Philippines. Plan your day ahead, maybe come for Sunset and stay overnight to catch the Sunrise, too. For however you will plan your visit at Tops, it will surely be unforgettable. Don't forget to bring your camera.