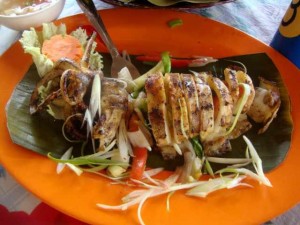 Welcome to Cebu, Philippines! Being this country is surrounded by bodies of water the endless supply of seafood is expected. The relationship of Cebuanos with food is like life itself. It is like feeding your soul with all the goodness of delicious seafood. Su-Tu-Kil is a nickname derivation from three methods of cooking in Cebu. In Visayan dialect, Su came from the word "sugba" which means to grill on charcoal, Tu came from the word "tula" which means to stew the food and season with spices and usually with "sampaloc" (tamarind) or lemon grass, and Kil came from the word "kilawin" which means to prepare it raw like in sushi, but immersed in white vinegar and mixed with ginger and aromatics while the fresh seafood is cooked slowly in the acid of the vinegar.
There are plenty of restaurants that cook Su-Tu-Kil. They are usually near the Mactan Shrine. It is a mere walking distance from the shrine. You can choose from a variety of these restaurants who can cook your seafood fresh in under an hour. This dining experience is definitely a must-try for first timers in Cebu. The restaurants are lined up in one place with all the fresh catch of the day laid out for customers to choose from.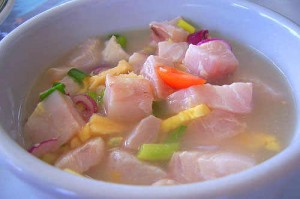 Prawns, crabs, lobsters, squids, different kinds of tropical fish and other large variety of sea creatures are the choices that can be prepared and cooked fresh.  Some of the famous restaurants who are the forerunners of this kind of dining are Fredz SuTuKil and Manna SuTuKil. The prices of the food are usually determined by the weight of the seafood of your choice, but still depending on the market price of the day, then they just add cooking fee. Say for example a half-kilo of squid is Php 140 and a half-kilo of prawns is Php 340, and for those prices the restaurant's fees are already added. Those are just examples, but you get the picture.
One can either choose to get it grilled, stewed or prepared fresh and cooked in vinegar as explained earlier. The famous stew is usually the "Sinigang" which is the Tamarind Soup mixed with vegetables. These restaurants can also cook other methods. Examples of which are fried calamares, baked scallops and sautéed chili crabs, and these methods of cooking can be done as per request. It depends on how you want to enjoy this experience, and may also get to choose where to sit, either inside an air conditioned floor or an open air dining, usually on the roof top.
Most of the restaurants have been in business cooking fresh seafood for 15-20 years already. They can definitely grill any type of seafood to perfect tenderness. If you are looking for authentic Cebuano food, you have to try Su-Tu-Kil. It's a Filipino type of cuisine that one should never miss during their trip to Cebu, Philippines. Bon appetit!