« Magellan's Cross Skywalk Extreme and Edge Coaster at Crown Regency Hotel and Towers in Cebu City, Philippines »


Basilica Minore Del Santo Niño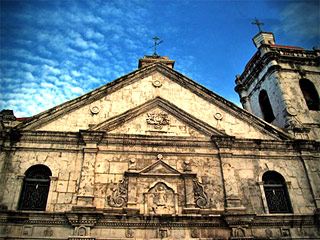 Cebu is full of history. Mostly of the Spanish heritage that Cebuanos have inherited resulting from the 300 years of Spanish settlement. As Cebu became a colony of Spain, traces upon traces of that era remained. One evident collection is the Basilica Minore del Santo Niño, a 16th century old Roman Catholic Church, known to be the oldest church in the Philippines. It was built purportedly on the spot where the image of the Santo Niño, a sculpture depicting the Holy Child Jesus done in the style of Flanders found by Spanish explorers of Legazpi Expedition of 1565. The image was allegedly preserved in a burnt wooden box which was left behind during the 1521 Magellan expedition. Since then, Santo Niño become the most popular symbol of Cebu and has acquired a huge number of devotees over the centuries.
The Augustinians regarded the finding as an omen of good things to come. Thereupon the Augustinians established their first house. It was 28th of April, 1565. On 8th of May, Legazpi and his men drew up plans for the urbanization of Cebu and a site was allotted for a church and convent dedicated to Saint Augustine. A chapel of wood and nipa was hastily built and with appropriate ceremonies the image was enthroned in the chapel. The adjacent convent served as an infirmary and rest house for other Augustinians working in the Visayas and up to the present still a residence for priests. Unfortunately, this chapel burned the following year.
In 1605 another church was built of similar material. It was finished in 1626 but burnt after two years. Fr. Juan Medina started a church of stone in 1628. But in 1729, it says that the church was in danger of collapsing and had to be replaced. Demolition of the old church began in 1731. However, the following year work was stopped because of the inferior quality of the brick used which deteriorated quickly. On 29th of February, 1735, foundations for the present church were begun. The new church was built of coral blocks quarried from Panay and Capiz, and molave wood from Talisay and Pitalo in Cebu. The church was completed not until later than 1739.
During Sinulog Festival, women selling candles can be seen swaying and dancing while holding aloft a handful of candles in front of the church. This is a sacred dance in honor of the Santo Niño, called sinulog, after the Visayan word "suug" meaning water current. A museum inside the Basilica showcases the history of Christianity in Cebu. Antique objects are on display, including century-old furniture, priestly vestments and the Santo Nino's old cloaks donated by individuals over the centuries. A visit to Basilica Minore del Santo Niño is another historical tour that you do not want to miss. Book with us now and travel back in time and turn your Cebu vacation into an illuminating experience.
Tags: Basilica del Santo Niño, Cebu, Cebu Activities, Cebu Landmarks, Cebu Tourist Spots