« Cebu Beaches Thresher Sharks of Malapascua »


Diving in Moalboal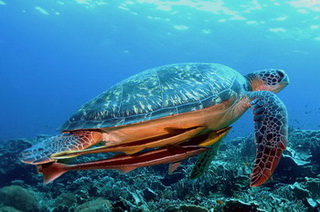 Moalboal is hailed to be Cebu's most popular diving spot, and the most affordable diving destination in Southeast Asia.  Located two and a half hours away south of Cebu City, this town now has a number of diving resorts and shops to offer for tourists who go there solely for diving.  Moalboal has a rich marine ecosystem that divers find fascinating.  Located in the heart of the Tañon Strait, the area has the richest marine biodiversity in the Coral Triangle of the Philippines.  The waters are warm, the marine life vibrant and the steep walls present make it a popular destination for divers from all over the world.
One of Moalboal's diving spots is Pescador Island, known for its beautiful and largely untouched marine life.  It is a small island off Moalboal, surrounded by a shallow reef and drop offs that down to 40m plus.  Expect to see schools of lionfish, barracudas, tuna, grouper, snapper and the occasional manta ray, thresher sharks, some resident white tip sharks and even giant whale sharks, known as the biggest fish in the world.
The town is still not very commercialized and resorts are quite affordable.  There are also a few restaurants which offer fresh seafood, such as squid or tiger prawns, caught off the beaches of Moalboal.  Divers from all over the world should include Moalboal in their places to visit, it's a definite must.
Tags: Cebu, Diving Spots, Moalboal, Pescador Island