February 29th, 2012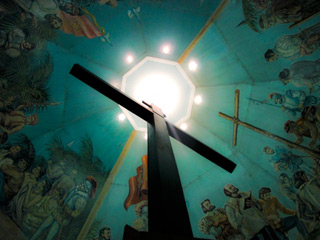 Christianity, among other things, was Spain's greatest contribution to this part of the world. Magellan's expedition is one of the most daring first expeditions in history. Magellan's Cross is a Christian cross planted by Portuguese and Spanish explorers as ordered by Ferdinand Magellan, who was the first European to come to the Philippines in 1521. The planting of the cross is to signify an important event about the propagation of the Roman Catholic faith in what is now Cebu, the island which he first called Archipelago de San Lazaro because it was discovered on the date of the festivity of Saint Lazaro. Christianity was then introduced to this native leader, Rajah Humabon and his family and to all his subordinates and were all consequently baptized thereafter. The Shrine of Magellan's Cross stood just beside the Basilica del Santo Niño.
Magellan is a Portuguese navigator working for the King of Spain in search of the Spice Islands, now part of Indonesia and also known as Maluku or Moluccas islands. He was the first man to circumnavigate the world and has successfully done and proved what no man in his time ever did and tried–to reach the East by sailing West. Sadly, Magellan met his death under the hands of another Visayan chief, Lapu-Lapu, when he went to the nearby island of Mactan. Mactan is also part of today's Metropolitan Cebu. There, both the statues of Magellan and Lapu-Lapu proudly stand to commemorate the tragic meeting of east and west. It took another 45 years (1565) before Cebu was visited again by another European. Miguel Lopez de Legazpi, under orders from King Philip of Spain, came and made Cebu the first capital of the Spanish colony known as Las Islas Filipinas.
The Shrine of Magellan's cross has become a symbol of hope and refuge for some if not all Christian travelers from all walks of life who happened to reach this place for some personal odyssey or retreat, and perhaps for some very important reasons of faith. Book with us now for Cebu accommodations and don't miss to have a tour at Magellan's Cross for a worthwhile historical visit.
Tags: Cebu, Cebu Activities, Cebu Landmarks, Cebu Tourist Spots, Magellan's Cross
Posted in Cebu |

Comments Off
February 19th, 2012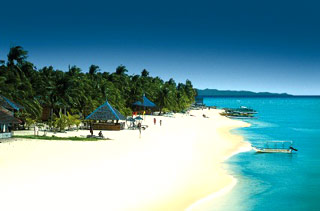 The Bantayan Island is in the Visayan sea, located west off the northern tip of Cebu Island. It is about 11 Km wide and 16 Km long.  It has 20 other islets on its south side that can be reached on foot during low tide. It is 3 hours drive from Cebu City and a banka boat (ferry) from Hagnaya Port to Sta. Fe Port. Bantayan is a fishing ground from where boatloads of fish are shipped off to Cebu City and Negros. Tons of guinamos (salted fish) and buwad (dried fish) are delivered to these two cities for further transport to other major cities in Mindanao in the southeast and to Manila in the north. It is reported to be a fish migration route from the equatorial belt of China Sea. Bantayan Island is also a prime destination for its powdery white sand beaches and pristine turquoise waters. It is also known for its quiet and serene ambiance because there are no corporate hotel chains been built ever since, thus the non-commercialized setting of the region.
Things to do in Bantayan Island: frolic in the spectacular powdery white sand beach, also the same as in the neighboring Virgin Island, visit Ogtong Cave, visit the Bantayan Market for some fresh sumptuous seafood to grill, island hopping to nearby islets, snorkeling, rent a Trysikad, which is a bicycle with a side car, watch the sunrise, tour the old Augustinian church, St. Peter and Paul Church, built in 15th century and one of the oldest churches in the Philippines or if you are feeling adventurous, try the local dish Kinhason and Bam-i. Bantayan Island is famous for its solemn observance of the crucifixion of Christ during Holy Week. During this time, prices are generally twice as much and you need to book your room well in advanced.
Book with us now and don't miss to visit Bantayan Island and experience an unforgettable tropical Cebu vacation ever.
Tags: Bantayan, Cebu, Cebu Beaches
Posted in Cebu |

Comments Off
February 14th, 2012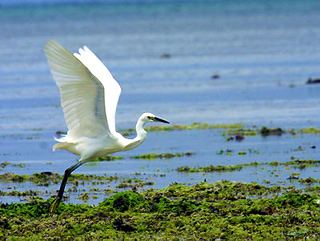 If you are visiting Cebu around the months of July to late November, then definitely do not miss stopping by at Olango Island Wildlife Sanctuary, a 920-hectare protected wetland. It is the feeding station and nesting ground for 50,000 birds of about 47 species (including the endangered Chinese egret Egretta eulophotes and Asiatic dowitcher Limnodromus semipalmatus) during the Southward Migration originating from Siberia, Northern China and Japan. Olango Island is one of the refueling stations of this migration that extends further south to Australia and New Zealand, due to its abundance of food and nesting grounds. Olango Island offers a peaceful and secluded area for these migrating birds flying as far away from the bitter winter of the North and where they can take refuge in the balmy shade of mangrove stands. Best time to see more flocks of these birds is during the months of November to February.
Olango Island is located 5 kilometers east of Mactan Island and can be reached by a motorboat banca (ferry) that embarks to Santa Rosa Wharf. In Olango, you will meet the warmest welcome of the people of the coastal villages before trekking to your adventure in meeting up with these exotic birds at the sanctuary. Fresh grilled seafood and grilled chicken can be available for lunch and you can also bring your own for your adventure. Book now in one of our Cebu hotels and get a front-seat view of a beautiful display of nature's delicate creatures and experience the warmth of Filipino hospitality from the locals of Olango Island.
Tags: Cebu, Cebu Tourist Spots, Olango Island, Wildlife Sanctuary
Posted in Cebu | No Comments »
February 3rd, 2012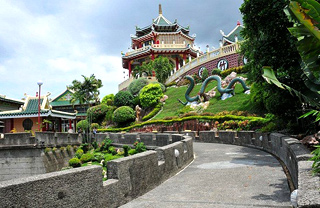 A visit to Cebu is never complete without a stop at the popular tourist destination, The Taoist Temple located in the heart of the city in Lahug. The Cebu Taoist Temple is perched on top of the northern hills of Beverly Hills Subdivision, a gated community of mansions. The temple is about 300 meters above sea level; and its architecture is functional and austere by Chinese standards. This serene shrine is a sanctuary for those who practice Taoism, an ancient belief based on the wisdom of a Chinese philosopher Lao Tze. Taoism is a philosophy deeply rooted in contemporary China, an unavoidable part of modern Chinese life. The Temple is also a symbol of the city's large and prosperous ethnic Chinese population. Photography within the temple's prayer halls is disallowed as it signifies disrespect to the spirits. Instructions are provided at the entrance if you are a beginner who wants to try out the devotees' prayer ritual. Silence must be observed, as it is a religious shrine.
You can walk along the Great Wall within the temple, which is the small version of the Great Wall of China. It is best to bring water as the walk could get tiring. Perhaps you can climb the 99 steps, an exhausting exercise, but very much worth it at the top where you can see the view overlooking the neighboring islands and Cebu City itself. The temple also shows the most stunning sunsets from high atop the hill. You can light up joss sticks and offer a prayer to the gods to grant your wishes. Lastly, more than the fascinating view, you can also have your fortune read by the tellers inside the shrine. The Taoist Temple has been categorized as a place for oblation and sacrifice, an altar for praying and offering, a cubby for religious service, and a garden for visitors. Undoubtedly, the simple brilliance of the temple is an experience worth the visit.
Tags: Cebu, Cebu Landmarks, Cebu Tourist Spots, Taoist Temple
Posted in Cebu | No Comments »
February 2nd, 2012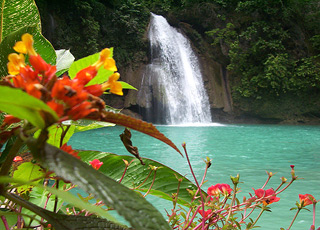 The Kawasan Falls is multi-tiered cascading water that flows out from 1 Sq. Meter opening and is located 130 Kilometers or about 3-hour drive southwest of scenic views mountain and the coast off Cebu City. It is on the town of Matutinao, Badian.  The waterfalls are set in the middle of a rain forest surrounded by wild and exotic tropical vegetation. The ambiance is serene and refreshing overlooking the iridescent clear blue water. A half-hour trek through the river, up to the rocky paths, and through wooden bridges and a steep passage are expected prior to reaching the waterfalls' area. There are souvenir shops along the way to buy accessories such as beaded necklaces and some native artifacts as gifts to bring back home.
The water is said to be cool and refreshing coming from thousands of liters freshly squirted by the mountain. The deepest part is said to be about 38 feet. There are places to buy food, but recommend bringing your own snacks, as the food prices are not marked and can go higher as the day goes on. Cottages and tables are also available for rent, perfect for day picnic by the falls. A bamboo raft can also be rented to take you underneath the waterfalls for a refreshing natural shower massage. The place tends to be really dark when the sun sets and it is recommended that flashlights are packed together with your sunscreens and swimwear. This is a fantastic day trip when you are in Cebu. Book a hotel now and experience this stunning bit of paradise.
Tags: Cebu, Cebu Activities, Kawasan Falls
Posted in Cebu | No Comments »
January 23rd, 2012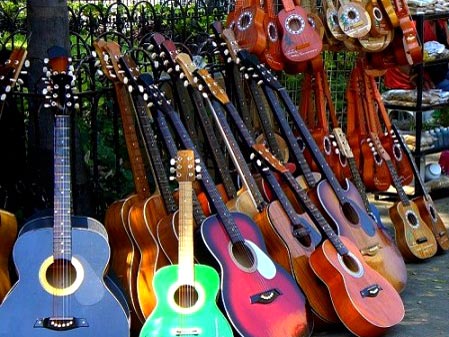 Cebu is well known for the best low-priced, world-class quality and durable hand-crafted guitars. Guitar making is one of the biggest industries in Cebu. Most of the manufacturers are family owned. Guitars made are simple to shell crafted and intricately designed ones, and some can be personalized. Guitars in Cebu are famous for all Filipinos throughout the country and some balik-bayans actually buy them to bring back to the United States. There a variety of guitars made in Cebu; there are the acoustic ones, bandurrias (Filipino mandolins), banjos and ukuleles. Typical woods used are jackfruit, narra, black wood ebony and some imported woods. Guitar making goes way back in the Spanish old times when friars in Lapu-lapu City needed guitar repairs. The friars could not wait for guitars to arrive from Mexico so they commissioned the townspeople of Opon Village in Mactan Island to repair and make new guitars, thus the beginning of the guitar industry in Cebu.
People say that the melodious tune produced by Cebu-made guitars is due to the exceptional craftsmanship and hard work put by local artisans in the guitars they make. If you are visiting Cebu don't forget to stop by and check out guitar factories in Mactan and maybe take home one unique guitar especially made just for you to serenade that loved one or just for your own playing pleasure.
Tags: Cebu, Cebu Acoustic Guitars
Posted in Cebu | No Comments »
January 9th, 2012
Sinulog is Cebu's biggest and most popular festival, celebrated in honor of the Holy Image of Santo Niño de Cebu. The event is highlighted by a grand solemn procession and a colorful and vibrant Mardi Gras parade. Sinulog is one of the biggest festivals in Southeast Asia. Essentially, the Sinulog, which takes place in the third week of January, can be defined as the feast day of the Santo Niño. As such, the procession in which an icon of the saint is carried around and followed by devotees comprises an essential element of the fiesta. The dancing in the parade on the following day, Sinulog Day, is a tribute to the Santo Niño. A fluvial procession is also a traditional part of the festivities; both processions take place on Saturday. Sunday is Sinulog Day.
The ceremonies in Cebu begin with this early morning fluvial procession, reenacting the coming of the Spaniards. The image of the Santo Niño is usually kept in a glass case bedecked with blossoming flowers, which will be carried by a "galleon" towards His destination. There will be a long procession of boats following the main boat that has the Santo Niño.  The sound of drums beating and trumpets roaring in the wee hours of the morning would not affect the solemnity of the ritual. Fireworks, ship's bullhorns, sirens and yells from the Santo Niño devotees can add vibrancy to the decorated motorboats sailing under a brilliant sun. Air Force helicopters from Mactan Air Base and other private planes will be hovering above and showering petals in the flotilla, which include motorized bancas, passenger boats, yachts, barges and fast crafts.
Tags: Cebu, Santo Niño, Sinulog Festival
Posted in Cebu |

Comments Off
November 17th, 2011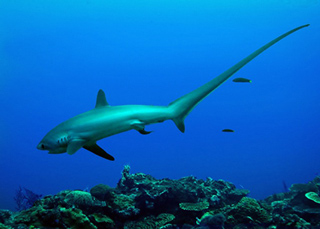 The thresher shark, or Alopias pelagicus is a type of mackerel shark or Lamniformes. The threshers grow up to a length of 5-6 meters, about half of which is the huge scythe-like tail for which it is named.
Monad Shoal near Malapascua is a sunken island at 18-24m whose sides drop off to 230m. The thresher sharks live and hunt in this deep water for most of the day, but in the early morning, before it gets too light, they come up to the Shoal, attracted by its cleaning stations. Here they have a symbiotic (mutually beneficial) relationship with the small fish called cleaning wrasse which eat dead skin and bacteria from the shark's body, its gills, and even inside its mouth. Because the cleaning benefits these huge animals, the sharks would never think of eating the wrasse as an early morning snack. The cleaning stations are like a carwash for fish!
Thresher sharks normally live in deep water and are night creatures, so are not often seen by divers in most parts of the world. Although they are seen occasionally in other locations, we know of nowhere else they can be seen so regularly. They have very small, sharp teeth and very big eyes to see in the dark.They eat squid and schooling fish such as herring and mackerel and they use their tails to "corral" the fish into denser schools. The tail may also be used to stun the fish.They will sometimes "breach" and can jump completely out of the water.
The huge diversity of marine life in Malapascua, located in the center of the Coral Triangle, makes each dive a pure delight filled with new discoveries! Thresher sharks, giant manta rays, hammerhead sharks, white tip sharks, mandarin fish, countless nudibranchs, pygmy seahorses, frogfish, cuttlefish, endless crustacean species and beautiful unspoiled coral gardens.
Many have considered Cebu to be the best spot to dive, I will understand why so many vouch for an ultimate dive experience, in Cebu. With the amount of sea creatures one is guaranteed to see, friendly and experienced divers, and just the total and complete package the place has to offer, it's a MUST activity!
Tags: Cebu, Coral Triangle, Diving Spots, Malapascua, Monad Shoal, Thresher Sharks
Posted in Cebu | 1 Comment »
November 14th, 2011
Moalboal is hailed to be Cebu's most popular diving spot, and the most affordable diving destination in Southeast Asia.  Located two and a half hours away south of Cebu City, this town now has a number of diving resorts and shops to offer for tourists who go there solely for diving.  Moalboal has a rich marine ecosystem that divers find fascinating.  Located in the heart of the Tañon Strait, the area has the richest marine biodiversity in the Coral Triangle of the Philippines.  The waters are warm, the marine life vibrant and the steep walls present make it a popular destination for divers from all over the world.
One of Moalboal's diving spots is Pescador Island, known for its beautiful and largely untouched marine life.  It is a small island off Moalboal, surrounded by a shallow reef and drop offs that down to 40m plus.  Expect to see schools of lionfish, barracudas, tuna, grouper, snapper and the occasional manta ray, thresher sharks, some resident white tip sharks and even giant whale sharks, known as the biggest fish in the world.
The town is still not very commercialized and resorts are quite affordable.  There are also a few restaurants which offer fresh seafood, such as squid or tiger prawns, caught off the beaches of Moalboal.  Divers from all over the world should include Moalboal in their places to visit, it's a definite must.
Tags: Cebu, Diving Spots, Moalboal, Pescador Island
Posted in Cebu |

Comments Off
November 7th, 2011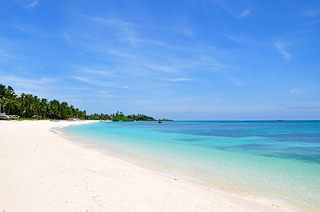 Cebu is home to a number of beaches located around the island.  One can swim, snorkel or dive and enjoy water activities each place has to offer.  The beaches are all different from each other, considering the fact that the island is quite big, but all the beaches boast of beautiful sand and clear, blue water.
Among the beaches are Bantayan Island, Badian Island, Moalboal, Mactan Island and Malapascua.  Mactan Island is the nearest beach to Cebu City, which makes it the main attraction for visitors who wish to stay near the city, and offers a wide number of resorts that you may choose from.  Bantayan Island is a few hours away from Cebu City and is home to Santa Fe.  Quiet and beautiful, this island has a long stretch of beach you may enjoy. Bantayan Island is also home to Paradise Beach and Virgin Island.  Both beaches do not have accommodations and are only accessible by boat.  Malapascua Island is another beach in Cebu, located on the northern tip off Cebu. Dubbed as the "next Boracay" owing to the beautiful, fine, white sand and crystal blue water you will find when you get there, this destination is becoming popular for both local and international tourists.  Malapascua not only offers a great swimming environment, the island also offers beautiful and unique diving spots, with a possibility of catching sight of the thresher sharks that can be found there.  Malapascua Island is only one of the few places where these friendly thresher sharks can be found.  Moalboal is town located about 4 hours away from the Cebu International Airport.    Moalboal is known for its diving spots as well and if you head to Panagsama Beach you can find all the diving resorts and facilities.  This beach is rocky and not really for swimming but it is perfect for snorkeling and diving as the area is full of coral reefs.
Other beaches more for swimming are White Beach, Basdako Beach or Zaragossa Beach, which are all accessible by land transportation, or even boats.  Badian Island is a private beach, which is 97.6 km southwest of Cebu City.  This is one of the least populated islands in Cebu.  The island is surrounded by a beautiful white sand coast and crystal clear waters.  One of its attractions is the Kawasan Falls and Kawasan Springs.  However, the main attraction of Badian Island is the Badian Island Resort and Spa, which is quite known for its beautiful accommodations and wonderful spa packages.
Cebu is still home to other beaches.  Its size and location offer the perfect place for visitors looking for something different when on vacation.  If you wish to dive or snorkel; or enjoy the sun by the sea, you will find that the beaches in Cebu can offer you both.  Beaches are not too crowded, especially the ones a bit further from the mainland, and you will find relaxation and rest while in Cebu.
Tags: Badian, Bantayan, Cebu, Cebu Beaches, Mactan, Malapascua, Moalboal
Posted in Cebu |

Comments Off