« Shopping and Dining: The Terraces at Ayala Center, Cebu City, Philippines Tops in Busay, Cebu City, Philippines »


Skydiving in Cebu, Philippines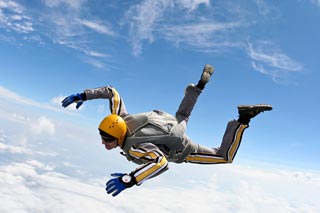 No other sport is included in the must-do lists of people more than Skydiving. Other than the adrenalin rush one gets from jumping off a plane at 10,000 feet, is the dream of flying without wings is closer to reality than ever before. Check out these fantastic ways in which human beings can fall through the air, glide through the sky and even feel completely weightless. There are not so many places in the Philippines that have Skydiving adventures. Cebu, Philippines same as Pampanga, another city of the Philippines, offers this kind extreme sport. If you are an experienced skydiver, side trip a jump right here in Cebu, Philippines. Or if you are a beginner, then must undertake a whole day of ground instructions for training. This will be conducted in Mactan Airport, Cebu. On the second day, the group will have their static line skydive jump with Cebu as the drop zone. Everyone participating to skydive will be guided by ground-to-air radio every step of the way, starting from the airplane all the way to a gentle tiptoe landing. Beginners have two options: Tandem freefall or a static-line program.
In tandem freefall, you get to experience the dive with a licensed instructor who is harnessed to you. You will be instructed for a few minutes before the actual jump that would take place immediately after. Most beginner skydivers choose tandem skydiving because of its minimal amount of instruction, and the knowledge that you are harnessed to a licensed skydiving instructor definitely makes things easier, especially if it is your first dive. This is touted to be a great introduction to the sport. Training generally lasts just 30 minutes and depending on the variables, a student may spend only half a day for the training and jump. Nearing the jump, both student and instructor are attached together to the same parachute system. On signal, both student and instructor free fall together for about 30 to 50 seconds, depending on the jump altitude (typically 10,000 to 13,000 feet). They descend together under a single large parachute with dual controls.
In the static-line program, the student is assisted during the climb out by the static-line instructor, exits the aircraft solo with the parachute deploying immediately. Exit and opening altitude occur at 3,500 feet, then the student pilots the parachute to the landing area. Pre-flight programs include practical instruction on climb-out and exit, freefall, canopy flight, landing, and emergency procedures. The static-line program is meant to be an initial course for those wanting to become licensed sky divers.
Book with us now on your visit to Cebu and expect a Philippine skydiving adventure to be a truly unique experience.
Tags: Cebu, Cebu Activities, Sky Diving, Things to do in Cebu