« Basilica Minore Del Santo Niño Shopping and Dining: The Terraces at Ayala Center, Cebu City, Philippines »


Skywalk Extreme and Edge Coaster at Crown Regency Hotel and Towers in Cebu City, Philippines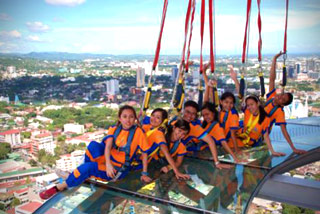 If you are visiting this beautiful city of Cebu, you must try this adventure at the top of Crown Regency Hotel and Towers. It is a fairly new hotel with tons of amenities, first class comfort and top notch service. Crown Regency Hotel and Towers is deemed the tallest building of Cebu City and one cannot miss this building at all. It is also located in the heart of commerce district of Cebu City. Beside the 4D Theater there are other two exciting adventures atop the hotel, that is the Skywalk Extreme on the 37th floor and Edge Coaster on 38th floor.
The Skywalk Extreme as the name depicts, is a walk on a glass based floor on the edge of the exterior of the 37th floor of the building. It is like walking on the sky but with a harness attached to a cord. The view of the whole of Cebu City and neighboring island of Bohol are amazing from this level. A pair of athletic shoes is required. There are rental of shoes just in case. Guests who will go on for this adventure will need to change into the required flight suits. Lockers are provided for the personal belongings. Cameras are not allowed, but there are photographers who will take pictures for a fee. Make sure you tell the photographers to take as many pictures with different poses. One more thing, walk on the edge and look down below or sit on the edge, this might be a once in a lifetime breathtaking experience, so might as well make the most out of it.
The Edge Coaster is a gliding coaster ride on a rail situated around the edge of the exterior of the 38th floor. The coaster that is facing outward the building tilts to 30 to 55 degrees to its front. It has the same spectacular view of Cebu City and Bohol Island like the Skywalk Extreme. This adventure is exciting and scary for some, but not as scary if it would have been a real roller coaster. However, the ride gives you that feeling when you are about to fall off a building. That alone is a scary thought; imagine actually being there experiencing that moment for 5 minutes. It is a must-try!
There is no other place in the Philippines that offers these kinds of adventures except here in Cebu City. Book your hotel room with us now. Add Skywalk Extreme and Edge Coaster in your itinerary in your trip to Cebu City and make it a one of a kind experience for you and your family.
Tags: Cebu, Cebu Activities, Cebu Tourist Spots, Skywalk Extreme and Edge Coaster