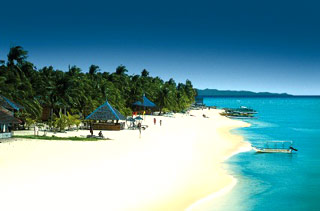 The Bantayan Island is in the Visayan sea, located west off the northern tip of Cebu Island. It is about 11 Km wide and 16 Km long.  It has 20 other islets on its south side that can be reached on foot during low tide. It is 3 hours drive from Cebu City and a banka boat (ferry) from Hagnaya Port to Sta. Fe Port. Bantayan is a fishing ground from where boatloads of fish are shipped off to Cebu City and Negros. Tons of guinamos (salted fish) and buwad (dried fish) are delivered to these two cities for further transport to other major cities in Mindanao in the southeast and to Manila in the north. It is reported to be a fish migration route from the equatorial belt of China Sea. Bantayan Island is also a prime destination for its powdery white sand beaches and pristine turquoise waters. It is also known for its quiet and serene ambiance because there are no corporate hotel chains been built ever since, thus the non-commercialized setting of the region.
Things to do in Bantayan Island: frolic in the spectacular powdery white sand beach, also the same as in the neighboring Virgin Island, visit Ogtong Cave, visit the Bantayan Market for some fresh sumptuous seafood to grill, island hopping to nearby islets, snorkeling, rent a Trysikad, which is a bicycle with a side car, watch the sunrise, tour the old Augustinian church, St. Peter and Paul Church, built in 15th century and one of the oldest churches in the Philippines or if you are feeling adventurous, try the local dish Kinhason and Bam-i. Bantayan Island is famous for its solemn observance of the crucifixion of Christ during Holy Week. During this time, prices are generally twice as much and you need to book your room well in advanced.
Book with us now and don't miss to visit Bantayan Island and experience an unforgettable tropical Cebu vacation ever.