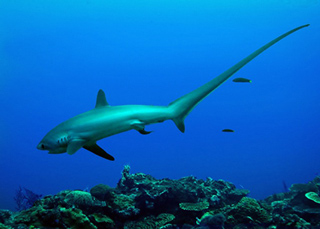 The thresher shark, or Alopias pelagicus is a type of mackerel shark or Lamniformes. The threshers grow up to a length of 5-6 meters, about half of which is the huge scythe-like tail for which it is named.
Monad Shoal near Malapascua is a sunken island at 18-24m whose sides drop off to 230m. The thresher sharks live and hunt in this deep water for most of the day, but in the early morning, before it gets too light, they come up to the Shoal, attracted by its cleaning stations. Here they have a symbiotic (mutually beneficial) relationship with the small fish called cleaning wrasse which eat dead skin and bacteria from the shark's body, its gills, and even inside its mouth. Because the cleaning benefits these huge animals, the sharks would never think of eating the wrasse as an early morning snack. The cleaning stations are like a carwash for fish!
Thresher sharks normally live in deep water and are night creatures, so are not often seen by divers in most parts of the world. Although they are seen occasionally in other locations, we know of nowhere else they can be seen so regularly. They have very small, sharp teeth and very big eyes to see in the dark.They eat squid and schooling fish such as herring and mackerel and they use their tails to "corral" the fish into denser schools. The tail may also be used to stun the fish.They will sometimes "breach" and can jump completely out of the water.
The huge diversity of marine life in Malapascua, located in the center of the Coral Triangle, makes each dive a pure delight filled with new discoveries! Thresher sharks, giant manta rays, hammerhead sharks, white tip sharks, mandarin fish, countless nudibranchs, pygmy seahorses, frogfish, cuttlefish, endless crustacean species and beautiful unspoiled coral gardens.
Many have considered Cebu to be the best spot to dive, I will understand why so many vouch for an ultimate dive experience, in Cebu. With the amount of sea creatures one is guaranteed to see, friendly and experienced divers, and just the total and complete package the place has to offer, it's a MUST activity!