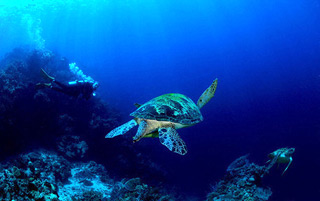 Badian Island is located at the south-western tip of Cebu mainland, slightly south of Moalboal. Home to some 35,000 residents and has 29 Barangays (town or districts). It boasts breathtaking white sandy beaches. Beside the fantastic Kawasan Falls in Matutinao area, the island is also home to excellent diving and snorkeling areas that are famous in Cebu, Philippines. It is frequented by many locals and international visitors alike. Badian Island has a luxury hotel in the area and available to provide Scuba lessons with certified PADI instructors for interested guests. They have first class dive equipment. Badian Island Resort and Spa offers comfortable accommodation and a relaxing spa well designed for guests who want to escape the hustle and bustle of the city. It would be a perfect combination to conclude your diving adventure with some world-class in-house massage.
Directly on the island there are 5 dive sites. Visibility of all the dive spots is relatively 15 to 25 meters. Coral Gardens is one, and it is a primary snorkeling area. There is a small sandy basin on the shelf at 3 meters and basically used more for Open Water Training Dives. Another one is Garden Eels, you go down a drop of 30 meters and you will encounter a large sandy spot that is covered with garden eels poking their heads out of the sand. It is recommended to go down current and as still as possible so as not to disturb the eels otherwise they will go and hide back in their holes.
Another two areas are the Badian Wall and the Fisherman's Cave, they are both about 10 to 15 minutes by boat toward north and northwest side of the island. The current is a bit strong in these two areas and thus, more fish activity. They both have a shelf that begins at 3 to 4 meters then drops off to 30 to 40 meters. You can see many fan and large green corals. A school of Yellowtail Barracudas can be often seen around this area as well. Some turtles are seen around here, too. Both of these dive spots are perfect for night diving.
Lastly is the Sawang dive spot, about 5 minutes by boat. It is a shallow dive and often used as an Open Water Training Dive site for large groups of beginners. It starts at 3 meters with sandy spots for skills and patches of corals. From there, it gradually slopes. This is prefect for safe training dives. Also this dive spot is sometimes being used for Advanced Open Water Navigation Dive. Moalboal and Pescador Island are both nearby Badian. Refer to our Diving Areas page to know more about these two dive spots.
There are other activities that can be arranged with the hotel like d­­olphin watching, hiking and a half-day trip to Kawasan Falls. Book with us and pick Badian Island Resort and Spa for your next diving trip.