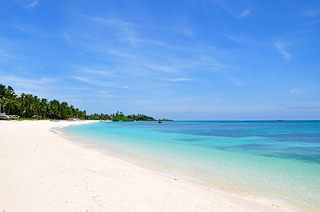 Cebu is home to a number of beaches located around the island.  One can swim, snorkel or dive and enjoy water activities each place has to offer.  The beaches are all different from each other, considering the fact that the island is quite big, but all the beaches boast of beautiful sand and clear, blue water.
Among the beaches are Bantayan Island, Badian Island, Moalboal, Mactan Island and Malapascua.  Mactan Island is the nearest beach to Cebu City, which makes it the main attraction for visitors who wish to stay near the city, and offers a wide number of resorts that you may choose from.  Bantayan Island is a few hours away from Cebu City and is home to Santa Fe.  Quiet and beautiful, this island has a long stretch of beach you may enjoy. Bantayan Island is also home to Paradise Beach and Virgin Island.  Both beaches do not have accommodations and are only accessible by boat.  Malapascua Island is another beach in Cebu, located on the northern tip off Cebu. Dubbed as the "next Boracay" owing to the beautiful, fine, white sand and crystal blue water you will find when you get there, this destination is becoming popular for both local and international tourists.  Malapascua not only offers a great swimming environment, the island also offers beautiful and unique diving spots, with a possibility of catching sight of the thresher sharks that can be found there.  Malapascua Island is only one of the few places where these friendly thresher sharks can be found.  Moalboal is town located about 4 hours away from the Cebu International Airport.    Moalboal is known for its diving spots as well and if you head to Panagsama Beach you can find all the diving resorts and facilities.  This beach is rocky and not really for swimming but it is perfect for snorkeling and diving as the area is full of coral reefs.
Other beaches more for swimming are White Beach, Basdako Beach or Zaragossa Beach, which are all accessible by land transportation, or even boats.  Badian Island is a private beach, which is 97.6 km southwest of Cebu City.  This is one of the least populated islands in Cebu.  The island is surrounded by a beautiful white sand coast and crystal clear waters.  One of its attractions is the Kawasan Falls and Kawasan Springs.  However, the main attraction of Badian Island is the Badian Island Resort and Spa, which is quite known for its beautiful accommodations and wonderful spa packages.
Cebu is still home to other beaches.  Its size and location offer the perfect place for visitors looking for something different when on vacation.  If you wish to dive or snorkel; or enjoy the sun by the sea, you will find that the beaches in Cebu can offer you both.  Beaches are not too crowded, especially the ones a bit further from the mainland, and you will find relaxation and rest while in Cebu.