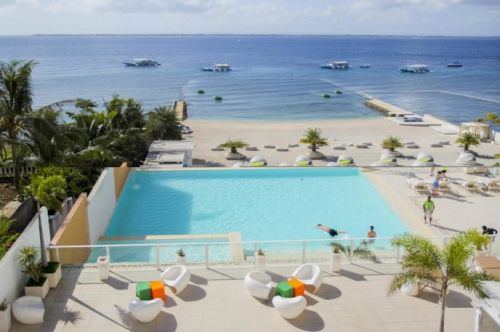 Be Resorts Mactan
Room Features
Air Conditioning
Hot and Cold Shower
Toiletries
Bathrobes
Refrigerator
LCD Cable TV
Hair Dryer
WiFi Internet Access
NDD/IDD Telephone
In-room Safe
Daily Housekeeping
Complimentary Slippers
Complimentary Bottled Water
Complimentary Newspaper
Outdoor Seating Area
Smoking/Non-Smoking Rooms
Voltage 220/240
Resort Map
Be Cool Room
Air Conditioning
Hot and Cold Shower
Minibar
LCD Cable TV
WiFi Internet Access
NDD/IDD Telephone
Garden View
1 Queen Size Bed

AND

1 Single Bed
Good for 2 Guests
Be Chic Room
Air Conditioning
Hot and Cold Shower
Minibar
LCD Cable TV
WiFi Internet Access
NDD/IDD Telephone
Balcony
Pool View OR Ocean View
1 Queen Size Bed

AND

1 Single Bed
Good for 2 Guests
Be Classy Room
Air Conditioning
Hot and Cold Shower
Bathtub
Minibar
Microwave Oven
LCD Cable TV
WiFi Internet Access
NDD/IDD Telephone
Full Seaview
Sofa Bed
1 King Size Bed
Good for 2 Guests
ROOMS & PRICES
Breakfast Included
Room Type
Low Season
High Season
Peak Season
November 01-May 31

December 26-January 03
April 13-April 15
October 04-October 06
August 04-August 06
February 15-February 19
March 29-March 31

Be Cool Room
PHP 4,472.00
PHP 4,472.00
PHP 5,884.00
Be Cool Room (3 Guests)
PHP 5,884.00
PHP 5,884.00
PHP 7,296.00
Be Chic Room
PHP 5,060.00
PHP 5,060.00
PHP 6,472.00
Be Chic Room (3 Guests)
PHP 6,472.00
PHP 6,472.00
PHP 7,884.00
Be Classy Room
PHP 6,824.00
PHP 6,824.00
PHP 8,236.00
Be Classy Room (3 Guests)
PHP 8,236.00
PHP 8,236.00
PHP 9,648.00
Please choose your room and dates:

Full payment is required for reservations made at Be Resorts Mactan.
A minimum of 3 nights stay is required within December 30, 2017 to January 3, 2018 period.
The hotel will not be accepting online bookings on August 4-6, 2017 due to Ironman Philippines.
All bookings that include December 31 will be subject to a mandatory hotel sponsored New Year's Eve Gala Dinner. Past midnight arrivals shall also have a mandatory Special New Year's Day Dinner on January 1. Guests can settle this directly with the hotel upon arrival.
Please email us at info@mycebuguide.com for more details.

More Hotel Details:
Previously Microtel in September 2008 and became Be Resorts Mactan in January 2010. It has a private beachfront. Be Resorts mactan has a total of 161 rooms consisting of 88 Be Cool rooms, 55 Be Chic rooms, and 18 Be Classy rooms.



Location:
Be Resorts Mactan is located in Punta Engano, Mactan, Cebu. It is about 1 kilometer from Mactan-Cebu International Airport.

Breakfast types available:
Breakfast is included in the room rates. Daily buffet breakfast is served daily. Additional breakfast is PHP 650.00 per person.

Children and Extra Beds:
Children 12 years old and below are free of charge, sharing existing bedding, and exclusive of breakfast.

Internet:
Wifi access in all rooms and public area.

Check-in / Checkout Time:
Check-in time is 2:00 PM, and checkout time is at 12:00 Noon.

Transfers:
Be Resorts Mactan does not offer free transfer service. MyCebuGuide would be happy to pick you up at the airport. For online booking, please see our transport section.

Special Hotel Room Amenities:
There is a safety deposit boxe and hair dryer in each hotel room.

Security Deposit:
Be Resorts Mactan will be collecting an incidental deposit of PHP 1,000 per room, per night upon check-in. This will be refunded back upon checkout, subject to a damage inspection of the accommodation.