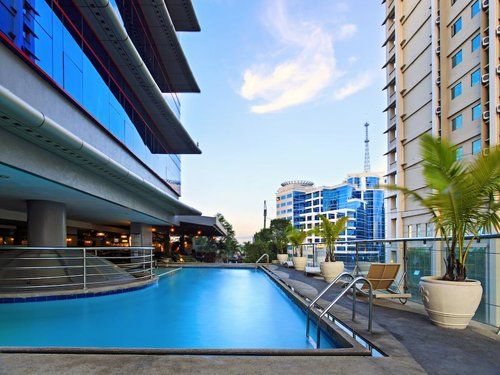 Cebu Parklane International Hotel
Room Features
Air Conditioning
Hot and Cold Shower
Minibar
LCD Cable TV
In-room Safe
Alarm Clock
Wi-Fi Internet Access
NDD/IDD Telephone
Voltage 220/240
Resort Map
Superior Room
Air Conditioning
Hot and Cold Shower
Cable TV
NDD/IDD Telephone
Wi-Fi Internet Access
Minibar and Refrigerator
Coffee and Tea Making Facility
In-room Safe
Hairdyer
Alarm Clock
1 Queen Sized Bed
Good for 2 Guests
Parklane Room
Air Conditioning
Hot and Cold Shower
Cable TV
Minibar
In-room Safe
WiFi Internet Access
NDD/IDD Telephone
Good for 2 Guests


Bed Configuration

1 Queen Sized Bed

OR

2 Single Beds

OR

1 Double Sized Bed and
1 Single Bed
Corner Room
Air Conditioning
Hot and Cold Shower
Cable TV
Minibar
Refrigerator
NDD/IDD Telephone
Wi-Fi Internet Access
Coffee and Tea Making Facility
In-room Safe
Hairdyer
Alarm Clock
Good for 2 Guests
Bed Configuration

1 King Sized Bed

OR

1 Queen Sized Bed and
1 Single Bed
Boutique Room
Air Conditioning
Hot and Cold Shower
Cable TV
Minibar
Refrigerator
Telephone NDD/IDD
Wi-Fi Internet Access
Coffee and Tea Making Facility
In-room Safe
Hairdyer
Alarm Clock
1 King Sized Bed
Good for 2 Guests
Executive Suite
Air Conditioning
Hot and Cold Shower
Cable TV
Minibar
Refrigerator
Telephone NDD/IDD
Wi-Fi Internet Access
Coffee and Tea Making Facility
In-room Safe
Hairdyer
Alarm Clock
Living Area
Dining Area
Swimming Pool Access (4th Level)
1 King Sized Bed
Good for 2 Guests
Honeymoon Suite
Air Conditioning
Hot and Cold Shower
Cable TV
Minibar
Refrigerator
Telephone NDD/IDD
Wi-Fi Internet Access
Coffee and Tea Making Facility
In-room Safe
Hairdyer
Jacuzzi
Alarm Clock
Living Area
Dining Area
Swimming Pool Access (4th Level)
1 King Sized Bed
Good for 2 Guests
Penthouse Suite
Air Conditioning
Hot and Cold Shower
Cable TV
Minibar
Refrigerator
Telephone NDD/IDD
Wi-Fi Internet Access
Coffee and Tea Making Facility
In-room Safe
Hairdyer
Alarm Clock
Living Area
Dining Area
Swimming Pool Access (4th Level)
1 King Sized Bed
Good for 2 Guests
ROOMS & PRICES
Breakfast Included
| Room Type | Low Season | High Season | Peak Season |
| --- | --- | --- | --- |
| | | | January 19-January 21 |
| Superior Room | PHP 3,530.00 | PHP 3,530.00 | PHP 4,706.00 |
| Parklane Room | PHP 3,530.00 | PHP 3,530.00 | PHP 4,706.00 |
| Parklane Plus | PHP 5,765.00 | PHP 5,765.00 | PHP 6,942.00 |
| Corner Room | PHP 4,471.00 | PHP 4,471.00 | PHP 5,648.00 |
| Corner Plus | PHP 6,118.00 | PHP 6,118.00 | PHP 7,295.00 |
| Boutique Room | PHP 6,000.00 | PHP 6,000.00 | PHP 7,177.00 |
| Boutique Plus | PHP 7,883.00 | PHP 7,883.00 | PHP 9,059.00 |
| Executive Plus | PHP 7,883.00 | PHP 7,883.00 | PHP 9,059.00 |
| Executive Suite | PHP 12,000.00 | PHP 12,000.00 | PHP 13,177.00 |
| Honeymoon Suite | PHP 12,000.00 | PHP 12,000.00 | PHP 13,177.00 |
| Penthouse Suite | PHP 23,765.00 | PHP 23,765.00 | PHP 24,942.00 |
Please choose your room and dates:




PLUS Rooms amenities include the following:
- Complimentary cocktails at the Executive Lounge
- Complimentary Mini Bar
- Complimentary 1 set pressing
- Free access to the Executive Lounge, all day refreshments and cocktails
- Free use of Executive Function Room, maximum of 2 hours. Any excess will be subject to an additional charge of PHP 500 net per hour

More Hotel Details:
Cebu Parklane International Hotel was built in 2006. There are 17 floors with a total of 241 rooms consisting of 24 Superior rooms, 144 Parklane rooms, 16 Corner rooms, 8 Boutique rooms, 30 Parklane Plus, 3 Corner Plus, 3 Boutique Plus, 8 Executive King Plus, 2 Executive Double Plus, 1 Honeymoon Suite, 1 Executive Suite King, and 1 Penthouse.



Location:
Cebu Parklane International Hotel is strategically located at the heart of the city's central commercial and business district at Archbishop Reyes Avenue and Escario St. Cebu City.



Breakfast types available:
Breakfast is included in the room rates. Buffet and set breakfast are served daily. Additional breakfast is at PHP 519.00 per person and half price for children 6 to 11 years old.



Children and Extra Beds:
Children 5 years old and below are free of charge sharing existing bedding. 6 to 11 years old will be subject to half the rate of the extra adult charge.



Internet:
Cebu Parklane International Hotel has free Wi-Fi internet service in all the rooms and public areas.



Check-in / Checkout Time:
Check-in time is at 2:00 PM and checkout time is 12:00 noon.



Transfers:
Cebu Parklane International Hotel does not offer free transfer service. MyCebuGuide would be happy to pick you up at the airport. For online booking, please see our transport section.



Special Hotel Room Amenities:
There is a safety deposit and hair dryer in each hotel room.




Cebu Parklane International Hotel, Room Prices - My Cebu Guide